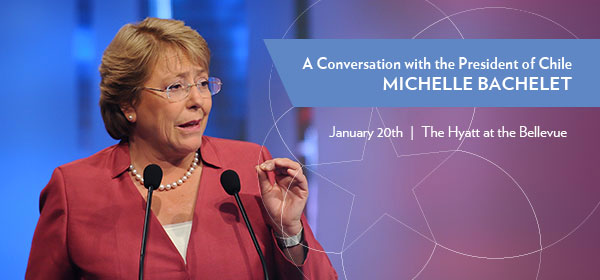 Tuesday, January 20, 2015
4:30 - 5:15 pm Chilean Wine Reception
5:15 - 6:30 pm Dinner and Presidential Remarks
Hyatt at the Bellevue
200 South Broad Street
Philadelphia, PA 19102
Please join the Greater Philadelphia business community to welcome the President of Chile, Michelle Bachelet.
Special Guests:
Luis Felipe Céspedes
Chilean Minister of Economy, Development and Tourism
Alberto Arenas
Chilean Minister of Finance
Carlos Furche
Chilean Minister of Agriculture
The United States and Chile have a long-standing partnership which is rooted in a strong commitment to democratic traditions; economic integration and open markets; increasing cooperation in areas such as science and technology, energy, and education; and addressing global challenges in security and development.
Join your business colleagues for an insightful evening about Chile's economic prospects, key areas of growth, and emerging investment opportunities for your business.
Why Attend?
- Hear directly from the President of Chile on the government's vision for investment, competitiveness, and growth.
- Benefit from insightful perspectives on the economic outlook, emerging investment opportunities, and sectors with the best growth potential.
- Learn from the experience of leading companies who have already benefitted from investing in Chile.
- Network with international business leaders and senior government officials.
Sponsorship Opportunities:
Visionary Sponsorship: $10,000
Presenting Sponsorship: $5,000
Corporate Table Sponsorship: $2,000
Individual Tickets:
CACC Member: $250.00
CACC Non-Member: $300.00
For more information and sponsorship opportunities, please contact Christina Lista at clista@greaterphilachamber.com or 215-790-3627.
Presented by: